*Hair Colours
Colours may appear marginally different then shown in displayed image depending on the hair fibre or style. Each colour in the images shown can change from one screen to another. As well some hairpieces are made by hand, and each individual hair colour can slightly differ in shade. These colour swatches are intended to give you a good depiction of the shading, yet may fluctuate slightly from one piece to another.
PRODUCT REVIEW
• design: wig
• brand: raquel welch
• hair type: heat synthetic hair
• cap design: monofilament top, lace front, hand tied base
• cap size: average
• weight: 4.5 oz
• approx length: Front: 6.25″ Crown: 12.5″ – Sides: 11.5″ – Back: 12.5″ – Nape: 12.5″


DESIGN FEATURES
• base design: monofilament top – creates the illusions of natural hair growth and allows you to part the hair in any direction.
• lace Front – virtually invisible sheer lace front that gives you amazing off-the-face styling versatility.
• base design: 100% Hand-tied Cap – each individual hair is carefully hand tied to the base. This creates natural movement and allows the hair to move freely. The soft stretch cap makes it more comfortable to wear and is ideal for a sensitive scalp.
• heat synthetic hair: Looks and feels like human hair and can be styled using thermal heat tools up to 180c. do not exceed over this. once you have washed your wig, it will dry as you last had it styled.
• fitting: adjustable velcro tabs- allows you to loosen or tighten the cap up to a half inch.
- Found in our description tab above.
Customer Reviews
10/01/2023
Jennifer D.

United States
Great wig, fibers tangle easily
I really love the cap construction and low density of this wig. The color is perfection! My only complaint is that the long fibers do tend to tangle easily. I've only worn it 3 times for a total of about 10 hours and some of the fibers are already matted a bit. Because it's heat resistant it's nothing that a flat iron won't fix, but I was hoping I'd get more than 10 hours out of it before having to play around with it like that. I generally stick to shorter synthetics for this reason, but wanted to change it up.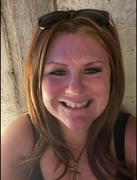 CHIQUEL
WE ARE AT THE FOREFRONT OF THE WIG, HAIR AND BEAUTY INDUSTRY AND DELIVER SUPERIOR CUSTOMER SERVICE.